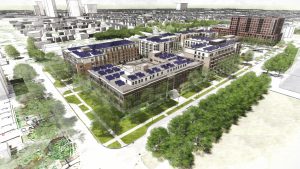 London, ON – August 16, 2022 – At TLC Landscaping, putting our community first is very important. We are always looking for ways to give back to the community and addressing London's homelessness crisis is one such way we can help.
"Seeing the incredible number of people living outside became too much to look at and ignore," said Jay Murray, Canadian President of TLC. "Downtown residents are alarmed and concerned about having to interact with some people that have serious mental health or addiction issues. London is capable of fixing these issues, we will fix these issues, we just have to get moving faster than we have been."
TLC has committed $100,000 to Indwell, a charity that creates supportive and affordable housing. Our contributions will help create over 275 new affordable apartment homes in London. On-site supports – such as nursing, addictions support, and food security – will help move people from hospitals or homelessness into a stable, inclusive community.
"When businesses like TLC Landscaping get on board, they can mobilize other businesses and organizations," said Jeff Neven, CEO of Indwell. "Together, we can solve the seemingly impossible issues like homelessness and the affordable housing crisis."
At TLC, getting our staff involved is an important part of our commitment to Indwell. That's why we created the TLC Gives Back program, which is a matching program whereby every dollar given by employees is matched by the company.
"Everyone wants these problems solved and these desperate people assisted. Younger employees especially want to work for companies with social and environmental awareness. It's not all about their paycheques. Giving employees a chance to help and then matching their giving creates meaningful bonds and improves morale at work," said Murray.
Our contribution will build three units at Indwell's project in SoHo to create 138 new apartment homes in the War Memorial Children's Hospital and the Heath Services building, the two remaining buildings on the South Street Victoria Hospital grounds.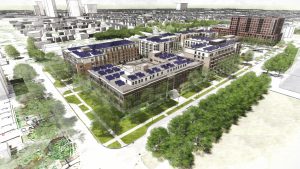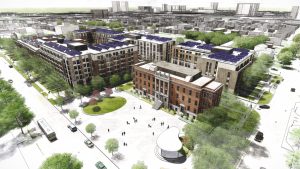 "Each contribution of $35,000 unlocks about $350,000 in loans and grants from all levels of government and creates one new permanent home," said Murray. "The economics of that are irresistible and the need seems overwhelming. Indwell needs 100 of these $35,000 commitments to fund the SoHo projects. We're sure there are 100 Londoners and organizations who can help."
With TLC's commitment, Indwell has 25 units funded at the SoHo project.
We are passionate about the positive difference Indwell is making towards ending homelessness in our community. Our plans to expand in Ontario with the help of our new business partners at Schill Grounds Management include helping Indwell in other communities across Ontario.
About Indwell
Indwell is one of Ontario's fastest-growing developers of new supportive affordable housing, supporting tenants with 870 apartments in London, Hamilton, Woodstock, Norfolk County, Waterloo Region, Mississauga, and St. Thomas.
In London, Indwell opened Woodfield Gate downtown three years ago, is opening Embassy Commons in Old East Village this fall, and is part of the coalition developing the Victoria Hospital grounds in the SoHo neighbourhood. Together, these three projects will create over 275 units of permanent supportive housing that are affordable to Londoners living on income from the Ontario Disability Support Program.
Learn more about the Vision SoHo Alliance.